Enhanced Power Loss Protection
(PLP)
The Power-Loss Protection (PLP) is a scheme to protect data from lost during a sudden power off when SSD drive is under programming or writing. It will ensure the system is stable and the data in the DRAM will be flushed to NAND. It needs to have controller firmware support first with additional power source from PCBA as backup power.
When the controller detects the power is dropping to certain level, the controller needs to inform the host and to stop the host from sending more data. The second step is to flush the data in the DRAM into the NAND flash, since DRAM cannot work when power is off. Therefore it needs enough extra power generated from Polymer Tantalum capacitors add-on PCBA to hold up several mini-seconds to ensure the data is flushed out to NAND completely. The following figure shows the PCBA of UDinfo SATA SSD with PLP feature by adding Polymer Tantalum capacitors.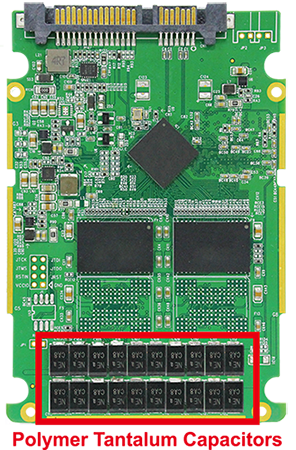 The PLP system of UDinfo is to offer about 45ms to ensure the data is flush out. Since the controller is featured with 4-ch process, if it is full 4-ch operation, the flush time will be short. However, if the flush speed is slower for small capacity, it takes longer time. UDinfo PLP system will make sure all the capacity combinations will have last data stored in NAND flash safely with additional margin. Additional figure shows when power is suddenly lost, a trigger to host stops sending data and the data are stored into NAND safely and completely with some margin.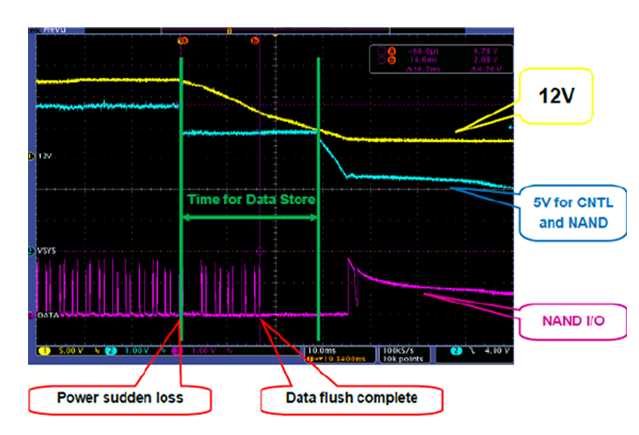 For some embedded or industrial applications, it needs to ensure all the data, even the last one, will be safely stored in the NAND. Therefore the SSD drives with PLP is highly recommended for important systems such as in military, medical and industrial applications.